Sản phẩm khuyên dùng
Máy thổi khí AT thiết kế nhỏ gọn, lưu lượng khí lớn, áp suất mạnh. Phù hợp để lắp đặt sục khí ao nuôi tôm, trại giống, ương tôm, nuôi tôm nhà màng …
Sản phẩm khuyên dùng
Máy quạt nước 2Lúa 3N sử dụng công suất Motor từ 250W – 750W, từ 10 – 20 cánh, chiều dài 2 – 12m. Cốt lõi của Máy quạt nước 2Lúa 3N là Nhẹ điện - Nhẹ ký -Nhẹ phí.
Sản phẩm khuyên dùng
Khuếch tán khí Fi được thiết kế đặc biệt, hai đường Ống Nano-Tube song song và thông nhau, áp suất tạo ra đủ lớn dẫn đến bong bong khí, đồng đều trên khắp mặt ống.
The pluses and minuses of broiler colonies
Author
AUSTIN ALONZO
,
publish date
Monday. February 6th, 2017
---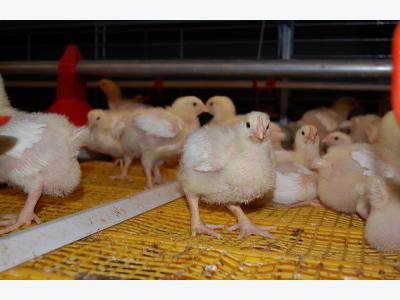 Raising broilers in cages, or colonies, is challenging but it can lead to better feed conversion, better animal health and greater profitability. | Terrence O'Keefe
Keeping broiler birds in tiered colony housing carries significant health and management benefits as well as new challenges for the grower.
Raising broilers in colony housing, rather than on the floor, could be a new path forward for poultry farmers in Latin American and elsewhere in the world.
On November 10, Dr. Joe Lockinger, sales manager for Latin America at Chore-Time, spoke about the advantages and disadvantages of keeping broilers in modern, multi-tiered colonies. He spoke as part of the XXIV Poultry Farming Summit of Central America and the Caribbean in La Antigua, Guatemala.
While the concept is not new, Lockinger said the system could be a viable option for Latin American poultry farmers who want to raise more birds but lack the space or authorization to build more floor housing. Switching to colony housing from floor housing presents serious management challenges and great financial commitments but can yield serious improvements and make it easier to grow healthy birds without using antibiotics.
Benefits
The greatest advantage of housing birds in colonies is the amount of animals that can be raised inside a poultry house. Lockinger said colony-outfitted barns can house 2.5 times more birds than a floor system. Farmers can place two, three or even four tiers of colony housing inside a house to maximize their revenue generation. This is particularly useful in Latin American countries where it can take years to gain approval to build a new poultry house.
Lockinger said the second greatest advantage comes in animal health. Like battery cages and enriched colonies, the colonies keep animals from walking around in bedding which includes their waste. Instead, droppings are collected on a manure belt. This eliminates the need to purchase and maintain litter and improves animal health outcomes. Without exposure to ammonia and excrement, the birds deal with less blistering of feet and breasts and less mortality.
Because it reduces the bird's exposure to feces, and therefore reduces the need for medication, colony housing could be a solution for antibiotic-free production. While it's made headlines in Europe and the United States, the antibiotic-free meat movement is picking up traction around the world, including in Latin America.
Confining broilers in colonies also provides significant management advantages: less movement, greater access to feed and less stress on the birds can lead to greater feed conversion. Removing bedding changes ventilation needs and makes ventilation to manage bedding moisture obsolete.
Air quality for workers inside the house improves and cleaning the house in between flocks becomes easier. Harvesting birds becomes easier for workers and less stressful for the broilers. Individual lighting, feed and water systems for each colony increases' the farmers control over the birds' environment.
Risks
The colony system is unquestionably more complex than the floor system and requires significant investments – renovation of existing facilities or construction of new housing, purchase of the colonies, new ventilation systems – and experience to perform at an optimal level. Lockinger warned if a farmer is not ready to fully commit to the system and spend the time and money it takes to make it work, they are better off sticking with a floor system.
Colony system equipment costs, he said, almost 2.5 times as much as floor equipment. Specific colonies are needed for broilers and layer cages will not work. Once it's purchased, serious planning must go into the houses' construction. Broiler birds produce as much as four times as much heat as layer birds, so the housing must be built to provide for adequate spacing between colonies and optimal ventilation to control heat.
Curtain wall houses alone cannot provide the necessary ventilation in many cases, Lockinger said. Instead, fans and automatic ventilation systems are needed to control the temperature inside the house. In Asia, he said, some farmers are having problems with performance because their houses were longer, narrower and taller, leading to problems with performance and heat management.
Better bird management is needed as well. In a floor system, a worker can easily check the amount of feed and ensure the birds have constant access to water. In tiered housing, provisions must be made so that workers can see birds above the second tier.
---
Sản phẩm khuyên dùng
Máy quạt nước 2Lúa 3N sử dụng công suất Motor từ 250W – 750W, từ 10 – 20 cánh, chiều dài 2 – 12m. Cốt lõi của Máy quạt nước 2Lúa 3N là Nhẹ điện - Nhẹ ký -Nhẹ phí.
Sản phẩm khuyên dùng
Khuếch tán khí Fi được thiết kế đặc biệt, hai đường Ống Nano-Tube song song và thông nhau, áp suất tạo ra đủ lớn dẫn đến bong bong khí, đồng đều trên khắp mặt ống.