Sản phẩm khuyên dùng
Máy thổi khí AT thiết kế nhỏ gọn, lưu lượng khí lớn, áp suất mạnh. Phù hợp để lắp đặt sục khí ao nuôi tôm, trại giống, ương tôm, nuôi tôm nhà màng …
Sản phẩm khuyên dùng
Máy quạt nước 2Lúa 3N sử dụng công suất Motor từ 250W – 750W, từ 10 – 20 cánh, chiều dài 2 – 12m. Cốt lõi của Máy quạt nước 2Lúa 3N là Nhẹ điện - Nhẹ ký -Nhẹ phí.
Sản phẩm khuyên dùng
Khuếch tán khí Fi được thiết kế đặc biệt, hai đường Ống Nano-Tube song song và thông nhau, áp suất tạo ra đủ lớn dẫn đến bong bong khí, đồng đều trên khắp mặt ống.
Isotonic supplement seeks to boost piglet weaning weight, gut health
Author
Aerin Einstein-Curtis
,
publish date
Thursday. January 11th, 2018
---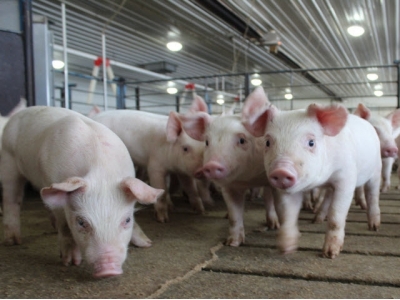 Tonisity says an isotonic supplement it has developed can boost hydration, weight gain and manage stress in piglets.
The isotonic protein drink, Tonisity Px, is designed to be offered from day two of life to improve hydration and encourage piglet health and growth, said Bill Barr, director of sales in North America. The product was released at the World Pork Expo last week.
"The formulation has been developed with the pig in mind," ​he told FeedNavigator.
The product is not yet for sale, but is moving through several states' regulatory processes and has a federal generally recognized as safe, or GRAS, label, he said. However, producers are being offered a free trial using the product.
"We want to make sure that it makes sense on their farm,"​ he said. "Even next year, if somebody hasn't tried our product we won't just sell it to them."​
Product details​
The product is based on a similar item designed for companion animals, said Barr. Interest in formulating the hydration supplement for pigs started during the outbreak of Porcine Epidemic Diarrhea virus (PEDv) in 2014.
The drink targets the villi and enterocyte cells within the piglet's intestinal tract, he said. It also works, he claimed, to lower the pH value of the gut to help counter act gram negative pathogens.
"When their gut is in better health they'll take in more nutrients, and the body is more acceptable to different kinds of vaccines,"​ he said. The stronger the immune system, he better the pig's response to stress and others challenges, added Barr.
Additionally, the product can be used to generate more interest in creep feed as piglets move toward weaning, he said.
"What we've done is introduce the pigs to Px – we give them the liquid form of Px to start with, a few days prior to weaning and then start putting the feed into the Px liquid," ​he said. "So when they go to [the combination,] they get used to the texture."​
Feed is continually added to the supplement until a porridge-like consistency is reached, he said. The product helps transition piglets so they don't stop eating during the weaning process.
It can also be used to boost hydration and intake during stressful periods or other challenges, he said. "There are a lot of transitions where they can go off water, or go off feed,"​ he added.
If pigs continue to eat, or be hydrated during those transitions they may have an easier time of it and recover more quickly, said Barr.
When used in the first week, it also can help support smaller piglets, he said. "In the trials we have been getting heavier pigs at weaning and more live pigs at weaning,"​ he added.
The product does not contain probiotics or antibiotics, said Barr.
Research findings​
A series of research studies​ examined use of the product in rehydration, palatability and in disease challenge conditions, the company disclosed.
In one experiment 1,496 pre-weaning piglets on a farm with a history of scours were divided into two groups, reported company researchers. One set of piglets and sows were offered 500mL of the supplement in an open pan once daily from day 2-8 post birth, the control group was not offered any supplement.
At farrowing, piglets were weighed and ear tagged, they said. Piglets were also weight on day 8 and 19 and creep feed was introduced at day 10.
Piglets in the supplemented group weighed about 240g more at day 19 than those in the control group and had a higher average daily gain for the first week and through day 19, the researchers said. Mortality for the group was 5.2% and the control group mortality was 6.7%.
The product also can be mixed with dry feed to boost feed intake post weaning, they said. The group tested a gruel made from the supplement and creep feed.
In the trial, 150 piglets were weighed and divided into one of six pens, they said. Three were given Px supplemented creep feed and the others water-supplemented creep feed for five days.
Pigs were weighed again at five days post weaning, and average daily gain was determined along with gruel and feed intake, they said. In the supplement group, 66% of the piglets had a positive average dairy gain, 25% of the piglets in the other group did.
However, the pigs getting the Px-mix consumed more gruel, 362 g/pig, than dry feed, 9g/pig, and pigs in the other group had the opposite feeding pattern, they said. That group ate 158 g/pig of the solution and 20.6 g/pig dry feed.
The group also tested piglet responses to Px in a diarrhea challenge, said the researchers. In the experiment, 268 piglets were raised in a barn with historical problems with diarrhea and piglets were added to the test if they developed scour from days 2-4 of life.
Half the piglets were given Px access twice daily and the others offered water, they said. Both groups were given a treatment for pathogens and weighed at the start and finish on day 18.
Mortality in the Px group was lower at 7.4% comparted to 11.94%, they said. Additionally, fewer pigs getting the supplement were removed from the trial for being 'fall-behinds.'​
An additional trial looked at the possibility of negative effects from use of Px in the diet of piglets in the first week post birth, said the company researchers. The study looked at weight, scour incidence, gut bacteria populations, hematology and serum biochemistry.
In the experiment, 140 piglets were given 2.5 mL, 25 mL, 50 mL and 100 mL for periods varying from one to five days, said the researchers. Different litters were assigned different study lengths and different piglets within the litter were given different amounts of supplement.
Treatments started on the second day after farrowing, blood and fecal samples were taken after the piglets finished their doses and all piglets were weighed on day 7, they said. The highest level of supplement tended to decrease body weight and average daily gain, but no detectable differences were found in the other groups.
The conclusion drawn was that the product offered no deleterious health results, even when used at 3-5 times the recommended amount, they said.
---
Sản phẩm khuyên dùng
Máy quạt nước 2Lúa 3N sử dụng công suất Motor từ 250W – 750W, từ 10 – 20 cánh, chiều dài 2 – 12m. Cốt lõi của Máy quạt nước 2Lúa 3N là Nhẹ điện - Nhẹ ký -Nhẹ phí.
Sản phẩm khuyên dùng
Khuếch tán khí Fi được thiết kế đặc biệt, hai đường Ống Nano-Tube song song và thông nhau, áp suất tạo ra đủ lớn dẫn đến bong bong khí, đồng đều trên khắp mặt ống.