Sản phẩm khuyên dùng
Máy thổi khí AT thiết kế nhỏ gọn, lưu lượng khí lớn, áp suất mạnh. Phù hợp để lắp đặt sục khí ao nuôi tôm, trại giống, ương tôm, nuôi tôm nhà màng …
Sản phẩm khuyên dùng
Máy quạt nước 2Lúa 3N sử dụng công suất Motor từ 250W – 750W, từ 10 – 20 cánh, chiều dài 2 – 12m. Cốt lõi của Máy quạt nước 2Lúa 3N là Nhẹ điện - Nhẹ ký -Nhẹ phí.
Sản phẩm khuyên dùng
Khuếch tán khí Fi được thiết kế đặc biệt, hai đường Ống Nano-Tube song song và thông nhau, áp suất tạo ra đủ lớn dẫn đến bong bong khí, đồng đều trên khắp mặt ống.
How phytogenic feed additives improve poultry nutrition
Author
Deven King
,
publish date
Monday. July 30th, 2018
---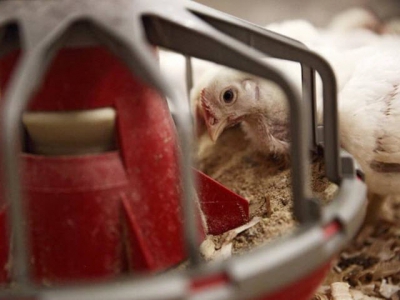 Industry professionals discuss why phytogenics may help with poultry health as the demand for antibiotic-free meat increases
Photo courtesy of Delacon
In recent years poultry producers have seen an increase in demand for an antibiotic-free product while still dealing with the need for high-quality animal protein and high feed costs. To meet consumers demands, phytogenics are becoming a seemingly more popular topic among scientists, nutritionists, feed manufactures, producers and farmers, explained industry professionals during the Phytogenic feed additives for improved poultry gut performance webinar held on November 14 and presented by WATT Global Media.
"I think growth is going to happen, as antibiotic-free production becomes more prevalent around the world," said Michael Noonan, global product manager, phtytogenics, for Biomin. Feed industries are currently looking at phytogenics as a potential replacement for antibiotics and how the alternative option can fit into their nutritional systems. "We have seen a 7 to 10 percent increase annually in phytogenic use, so I think we will see great growth in the future," he added.
With more and more big food-related companies making commitments to only sell antibiotic-free products by a certain deadline, the need for an alternative option is as important as ever. Noonan referenced a survey where 50 percent of 1,140 respondents said they were already using phytogenic products as an alternative in their feeding operations.
What are phytogenic feed additives?
Phytogenic feed additives are plant-based feed additives or botanicals that are used in natural substances used in animal nutrition. These substances are derived from herbs, spices, other plants and their extracts, like essential oils.
According to the company Delacon, results from use of the products may include sensorial stimulation and palatability; increased enzymatic activity in the intestinal tract; improved nutrient utilization; antioxidant effects; enhanced quorum sensing inhibition leading to reduced bacterial pathogenicity; improved gut integrity; and improved reproductive performance.
Jan Dirk van der Klis, Delacon's director of products and innovation and species leader, poultry, explained that phytogenics are a broad class of secondary plant metabolites with diverse physiological functions. "Effects depend on [a combination of] actives and dose level," he said.
The study previously mentioned by Noonan showed that producers agreed the main reason they are implementing phytogenic feed additives into their nutrient programs is to increase efficacy, uniformity, and enhance egg production and bird growth.
Conventional programs versus programs using phytogenic feed additives
When dealing with deadly illnesses like necrotic enteritis that could have a mortality rate of 50 percent, Noonan explained that in some conventional programs producers would use antibiotic growth promotors, antibiotics and ionophores. Now it is much more complex. Without the use of antibiotics, producers would treat the same illness with better biosecurity plans, management, health plans that include proper vaccinations and, of course, nutrition-based goals.
Phytogenic feed additives do, however, have some limitations when being used in an evolving operation. "Low palatability, high fiber contents, phytic acid, protein contents and balance of AA [amino acid] pattern and presence of anti-nutrients," were all things Noonan said when discussing the limits of the feed additives.
However, with phytogenic feed additives, research does show an increase in nutrient availability, amino acid and increased performance in body weight of the birds. Studies also show that the additives may lower gut inflammation.
By using the additives, research has also shown a decrease in ammonia emissions because of increased daily gain and heavier bird.
Klis attributed the additives for being a first line of defense on three different levels for poultry health. "Quorum sensing inhibition will reduce toxin production and bacterial colonization," Kils said about the first. Level two deals with cell integrity. Additives will reduce cell apoptosis, improve enterocyte maturation and help with tight junctions and intestinal barrier/integrity, he explained. Level three has to do with immunity, and Klis explained that "additives help with improved phagocytic activity and humoral defense in the intestinal lumen, increasing bird immunity."
Klis concluded that while outcomes may vary depending on additive use, it is possible to "reduce pathogenicity of microbiota via quorum sensing inhibition, local anti-oxidant and anti-inflammatory effects improve intestinal integrity, improve enterocyte maturation and an increase enzyme production and nutrient transport across the intestine."
---
Sản phẩm khuyên dùng
Máy quạt nước 2Lúa 3N sử dụng công suất Motor từ 250W – 750W, từ 10 – 20 cánh, chiều dài 2 – 12m. Cốt lõi của Máy quạt nước 2Lúa 3N là Nhẹ điện - Nhẹ ký -Nhẹ phí.
Sản phẩm khuyên dùng
Khuếch tán khí Fi được thiết kế đặc biệt, hai đường Ống Nano-Tube song song và thông nhau, áp suất tạo ra đủ lớn dẫn đến bong bong khí, đồng đều trên khắp mặt ống.