Sản phẩm khuyên dùng
Máy thổi khí AT thiết kế nhỏ gọn, lưu lượng khí lớn, áp suất mạnh. Phù hợp để lắp đặt sục khí ao nuôi tôm, trại giống, ương tôm, nuôi tôm nhà màng …
Sản phẩm khuyên dùng
Tima - Tủ điều khiển ứng dụng mạng không dây LoRa. Tima sử dụng giao thức truyền dữ liệu không dây tầm xa LoRa điều khiển thiết bị như máy bơm nước, động cơ điện…
Sản phẩm khuyên dùng
Chúng tôi tự hào giới thiệu Ống thông khí Nano-Tube bọt khí mịn, oxy hoà tan cao, cải tiến quan trọng để khuếch tán oxy hoà tan trong nước phục vụ nuôi tôm công nghệ cao.
The basics of maize production
Author
Staff Reporter
,
publish date
Thursday. February 6th, 2020
---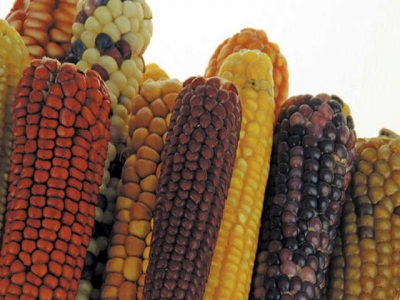 Also known as corn, maize was first domesticated in southern Mexico nearly 10 000 years ago. Many varieties have been bred to suit a range of conditions.
Photo: Xochiquetzal Fonseca/CIMMYT
Maize ears of many colours and shapes. The germplasm bank of Mexico's International Maize and Wheat Improvement Centre contains 28 000 samples of cultivated maize and its wild relatives, teosinte and Tripsacum. These include about 26 000 landraces, including traditional and locally adapted varieties. The bank conserves this diversity and makes the seed available as a resource for breeding.
Maize (Zea mays) is today the most widely grown grain crop, with global production standing at just over one billion tons.
This is 38% of total grain production, which amounts to 2,6 billion tons. (Wheat comes in second at about 750 million tons, and rice third at about 480 million tons).
In 2017, South African maize production was 17,5 million tons, an all-time record for the country.
Maize is a warm-weather crop; it is unsuitable for areas with a mean daily temperature of below 19°C, or where the mean summer temperature falls below 23 °C.
Although the minimum temperature for germination is 10°C, germination will be faster and less variable at a soil temperature of 16°C to 18°C. At 20°C, maize should emerge within five to six days.
Yield is reduced if the temperature reaches about 32°C.
At the other extreme, frost can damage maize at all growth stages, and a frost-free period of 120 to 140 days is required to prevent damage.
A yield of 3,2t/ha requires between 350mm and 450mm of rain per annum. At maturity, each plant will have used 250ℓ of water in the absence of moisture stress.
Soil requirements
The most suitable soil for maize has generous depth, a favourable structure, good internal drainage, optimal moisture, sufficient and balanced plant nutrients, and chemical properties that favour maize production.
Although maize is produced on a large scale in soils with a clay content below 10% (sandy soils) or above 30% (clay and clay-loam), the ideal soil for maize has a clay content of between 10% and 30%.
Yield potential
Several methods, each with its own limitations, can be used to determine yield potential.
One of the most reliable is long-term yield data collected by individual farmers, as this reflects the inherent yield of the specific environment, as well as the effect of agronomic practices such as fertilisation, soil cultivation and plant density.
Sources: Du Plessis, J. 2003. 'Maize Production'.
Directorate of Agricultural Information Services of the Department of Agriculture, Forestry and Fisheries, in cooperation with ARC-Grain Crops Institute; Origin, History and Uses of Corn' (Iowa State University, Department of Agronomy).
---
Related news
Sản phẩm khuyên dùng
Máy thổi khí AT-80 đang rất được ưa chuộng hiện nay trên thị trường, lưu lượng khí lớn, hoạt động mạnh mẽ.
Sản phẩm khuyên dùng
Tima - Tủ điều khiển ứng dụng mạng không dây LoRa. Tima sử dụng giao thức truyền dữ liệu không dây tầm xa LoRa điều khiển thiết bị như máy bơm nước, động cơ điện…